It's fair to say that COVID-19 has both divided and changed the modern workplace. The winter season is upon us, the UK has entered its 3rd lockdown and restrictions remain across many nations.
Your organisation is continuing to handle the effects COVID-19 has – and will continue to have – upon your operations and people.
How you respond will determine how well your organisation thrives, but as you continue to adapt your business operations in line with Government advice and guidelines, what else are you doing to support employee wellbeing and workforce resilience in your organisation?
It's not business as normal
The pandemic is continuing to evolve.
According to a recent McKinsey report, businesses have done a tremendous job at addressing the basic needs of safety, stability and security. In addition, those that have been attentive and "built social capital during the earlier phases of the crisis" will be in better positions than others, yet there is only so much employees can respond positively to before their energy and resilience wanes. They've shown their value and dedication through weathering the changes in workplace practices, abided by lockdown and isolation rules and juggled childcare around work. However, anxieties over personal health, treatment plans and general stress are constant day-to-day factors.
How can you help support employee wellbeing throughout the workplace?
Business recovery depends upon the resilience of your employees; the ability of individuals to deal with challenges and setbacks and bounce back. It's the skills and ability leaned upon during times of upheaval which enable them to cope. It enables them to survive, thrive, remain agile to change and stay positive and well.
With COVID-19 continuing to dominate news coverage, resilience will now play an even greater role in your wellbeing strategy. What's more, this approach is applicable across your entire organisation regardless of department or managerial level – a benefit that will impact your bottom line.
Promoting workplace resilience by focusing on health and wellbeing
COVID-19 has sharply brought healthcare into the forefront of every organisation's agenda. Employee experience varies from person to person, but real-time, tailored and confidential support that can help businesses build a resilient workforce and boost wellbeing has never been more in-demand.
You may not think your employees would have an issue in speaking to your HR or management teams but our recent research discovered that an alarmingly high percentage of employees are hiding their health concerns from their employers.
One in 10 are worried there'll be fired should they tell their employer they are dealing with a long-term illness
39 per cent are experiencing stress or depression
41 per cent are worried about a family member
20 per cent feel lonely or isolated
"Organisations that take a proactive approach to creating resilience through meaningful health and wellbeing initiatives outperform their peers in terms of productivity, quality of work, talent acquisition and retention – and crucially, their people are happier at work because of it all."
Aon's Rising Resilient Report.
Ensuring your staff have access to a personalised and relevant healthcare package will not only fill the gaps left by COVID-19's impact on the NHS but will also aid staff in dealing with their health concerns – in regard to both treatment and prevention.
Not only will your employees and business develop further resilience, but your bottom line will benefit from an increase in productivity, motivation and employee engagement.
Carrying on through COVID-19
Continuing to enable your employees to work in whichever capacity makes them feel safe is essential, but the key to thriving will be in how you continue to address health issues and anxieties as they happen.
As a leader or manager, you can use this as an opportunity to push resilience further into the spotlight. It's a time to focus upon protecting staff wellbeing and preparing them for the road ahead with a highly valued, relevant and wanted support package. one in two employees are now less bothered by office-based perks and are keener for physical and mental wellbeing benefits.
Not only will this type of resource be inclusive across your entire organisation, it will ensure your people feel valued and safe, whilst fulfilling your corporate social responsibility at the same time.
Next steps…
COVID has impacted everyone but you can take this opportunity to build upon the trust and rapport developed throughout the earlier phases of this pandemic. What your workforce needs now more than ever is continued trust in leadership, a compassionate approach to their health and hyperpersonalised support.
Traditional benefits no longer meet employee health demands. You must take steps to mitigate the areas you have control over in order to continue increasing and maintaining productivity, motivation and engagement.
Listen.
Build trust.
Boost resilience.
Remain agile to change.
Protect your organisation.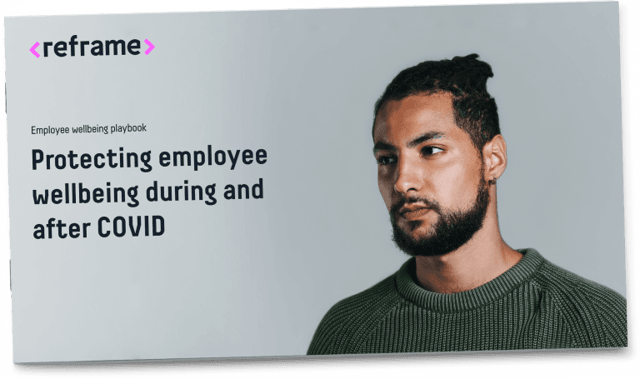 Contact us
to see how we can help you deliver a relevant and cost-effective employee wellbeing solution.