Tech powers better healthcare, but it mustn't replace the human touch. An interview with Raconteur.
How has healthcare evolved, especially in the last 12 months during the pandemic?
I find healthtech fascinating because one of the key characteristics of innovating in other sectors is fail fast, yet in the health system, where lives are at stake, there's a very unique need to be ultra-cautious. That makes for an interesting tension, which often leaves healthcare lagging behind other sectors in its adoption of technology.
However, in the last 12 months, technology has been integral to maintaining healthcare services during the pandemic, significantly accelerating digital transformation in the sector. I was working in NHS Property Services last year and technology projects that would have taken literally years were being executed in weeks and months. The success of that has given people confidence in the role technology can play to drive efficiencies, which not only have a cost and resource benefit for the NHS, but also can help save lives.
How important is data in enabling more patients to self-serve on their healthcare journey?
The ultimate opportunity of data and analytics in healthcare is utilising technology and insights to empower patients by allowing them to self-manage their health and wellbeing for better outcomes. That can be achieved through a combination of technology, but also then working with them as individuals to understand what they need for the best outcome. Self-serving means individuals have the control to engage in their health on an ongoing basis and make the right decisions every day, powered by easier access to information and services, thereby reducing the need for interventions.
The starting point, which we are seeing already and COVID-19 has really forced the issue, is virtual appointments with GPs or consultants and getting tests online. We're seeing more and more of these point solutions for people who need, say, a physiotherapist. When it becomes super interesting, and where Reframe starts to come in, is by connecting all these points together to build a more holistic picture of people's needs.
Traditionally, health and wellbeing haven't been viewed particularly holistically, why is it important this changes?
We've known for a long time the food you eat and whether you exercise can have a significant impact on physical health. But now there's more evidence to say it can also have a big impact on your mental health. Similarly, we know mental health has a big impact on how well you take care of yourself physically and this, again, will affect how you cope with the conditions you face. It's all interlinked, which further supports the need to think of people as human beings who don't necessarily always fit into a data box.
We are focused on that humanity piece, working with individuals to help them cope with the situation they find themselves in through a combination of clinical, practical and emotional support.
What in your view is the future of healthcare?
The health space is a bit like the Wild West at the moment; it's very fragmented. Lots of people with lots of great ideas. Through the clinical commissioning groups structure, the NHS has tried to allow innovation to happen locally, however there are now plans for integrated care systems that bring together providers and commissioners of NHS services with local authorities and other partners to collectively meet the needs of their population.
There is a need from a patient perspective to have this all connected, because fragmentation makes it difficult for them to navigate health services, and for the NHS to drive the efficiencies it needs. It will become clearer which technologies and approaches are going to work and we will see some consolidation that will hopefully drive simplification.
Reframe will play an important role in helping individuals with life-changing conditions to navigate what can be a really confusing space, as well as building out the technology that will make that navigation much easier.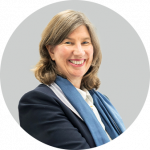 Catherine McDermott, CEO at Reframe reveals the rapid advances in technology-driven healthcare, supported by a human touch.