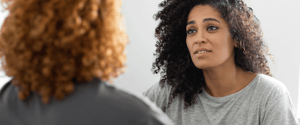 Cancer in the Workplace Survey
Are you living with cancer?
Help us understand the opportunities and challenges for cancer patients in the workplace.
The survey will take approximately 15 minutes and your responses will help us to raise awareness and improve workplace support for cancer patients.
The purpose of the research
Working through cancer is important to many cancer patients, but the impact of the disease and it's treatment means support from employers is vital to help people continue working.
We are researching cancer in the workplace to:
Better understand the needs of cancer patients in the workplace.
Identify things that help or hinder people working during their treatment and returning to work afterwards.
Identify how cancer, and cancer stigma, could impact career prospects.
Understand the unique value that a person who has/had cancer brings to the workplace as a result of their experiences.
What will happen with the results?
We support people through their cancer journey, specialising in supporting people working through cancer. The findings from your experience will help us to educate businesses and promote the needs of cancer patients and cancer survivors to employers.
The survey results will be publicised through various media channels, including social media, national media, and relevant trade publications, to raise awareness about cancer-related employment issues.
If you need support while completing the survey
We understand that when reflecting on your cancer journey, it is possible that some negative emotions may be triggered. Please do not try and manage these emotions alone. If you would like support, contact our cancer support team on 0207 965 0309