Cancer at work is an increasingly important issue that HR leaders must pay attention to.
Research recently commissioned by Reframe and conducted by Census Wide has revealed that the COVID-19 pandemic has not only put strains on the UK's health service, but has also led to employees being worried about their chances of survival if they were to be diagnosed with cancer during the pandemic.
Results of the survey, collecting the views of 150 HR leaders and 1,000 employees from some of the UK's largest businesses, have been captured in our new infographic – which looks at why diffusing the cancer timebomb should be a priority for HR.
A deeper dive into the state of cancer in the workplace, COVID's impact on cancer care, and steps business leaders can take to reframe their response to cancer post COVID, is available in our whitepaper: Avoiding the cancer catastrophe.

The impact of COVID-19 on cancer
With one in four people experiencing a delayed or cancelled cancer treatment in the UK, coupled with reports that it will take until 2033 to clear the backlog caused by COVID, it's understandable why 70% of employees are worried about their survival chances due to the strain on the NHS.
Employees also rank cancer as third in their top health concerns, showing how the disease remains top of mind for much of the working population. In addition, with more employees now caring for a loved one with cancer, many note either a lack of support from their employer or aren't aware if support is available. This puts an onus on employers to ensure employees are well informed and supported in the event that they, or someone they care for, are diagnosed.
The rising pressure on employers
The pandemic has put critical illness front and centre for many employers, with 90% of large businesses experiencing an increase in critical illness referrals that they ascribe to COVID-related delays.
This has understandably led to increased concern (84% of employers we surveyed) about the cancer backlog's impact on increasing premiums and insurance costs as employees leverage their healthcare benefits more. Of course this shows the value of having such benefits in place, yet one in five HR leaders surveyed don't consider detecting critical illness earlier as a priority in their benefits package.
When it comes to critical illnesses such as cancer, the earlier the detection and diagnoses, the better the survival rate. In turn, this should curtail rising insurance costs. Undoubtedly it is an area that employers should be re-addressing.
The disconnect between employers and employees
Our research also revealed that 84% of employees prefer human care over digital solutions when facing a critical illness. Indeed, employees we asked valued access to trusted information, someone to talk to and practical assistance more than technological solutions such as apps to manage their journey. Employers agreed on some elements, but offered more tech and insurance services.
Unfortunately this isn't the first time that our research has identified a gap between businesses and their workforce. Research that we conducted into the utilisation and perception of employee benefits showed that there is a disconnect between what organisations offer as benefits, how well they think they are perceived and what their workforce actually needs.
While there's no doubting that providing employees with digital and insurance services is important, employers must also not lose sight of the 'human element' when it comes to supporting cancer at work.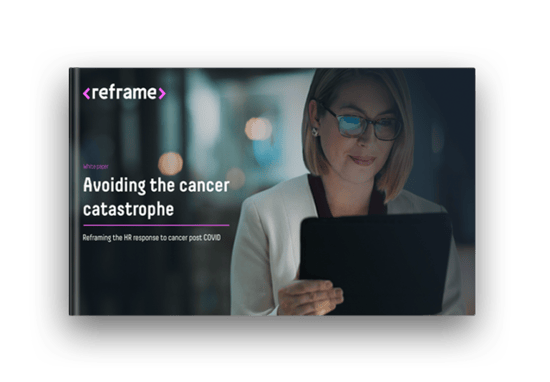 Find out how to reframe your HR response to cancer care post COVID in our whitepaper: Avoiding the cancer catastrophe