Employee benefits are fundamental in attracting, engaging and retaining talent.
An employee's preference to work for one organisation over another is never just about the money. It's about the bigger picture – the culture, the experience, the brand. An employee benefits package plays a significant part in determining these aspects and can therefore make or break an organisation's talent strategy.
According to our research, 64% of employees say the employee benefits package is an important consideration when applying for a new job. There is a stronger feeling towards this among those working in those in legal, IT and financial services and those under 35. Morover, while benefits can attract talent to your organisation, they're key to retaining them with 8 in 10 employees likely to change employer for a better benefits package.
However, despite this, just under half of employee benefits are underused and undervalued. While this comes down to a lack of awareness for some employees, most do not find their employee benefits package relevant to their needs or life stage. If employers remain disconnected from their workforce, they will continue to put their benefit investment and talent strategy at risk.
KPMG says that within tech talent the Employee Value Proposition (EVP) is a key part of any retention strategy and employee benefits play a crucial role here. One of its recommendations for improving talent retention is to offer greater flexibility and choice of benefits, enabling employees to tailor their package to suit their individual needs.
Secure diverse talent with an employee benefits package
The workforce is becoming ever more diverse, and employers need to ensure they are constantly adapting to the expectations of this workforce. This is where your employee benefits package can help you to demonstrate inclusion and equality. It proves to every candidate, irrespective of their background, gender, sexuality, or anything else, that they are valued, listened to, and understood.
The pandemic has shifted employees' needs, priorities, and expectations. Employers need to be on the front foot by offering an employee benefits package that's relevant – and as flexible as possible – to their entire workforce.
Employee benefits are much more than a cost
The results of a progressive and consistent effort to design a powerful employee benefits package are:
Enhance your recruitment strategy to attract candidates now and in the future from wider talent pools.
Support employee wellbeing which ultimately reduces absenteeism and presenteeism.
Increase employee engagement and satisfaction which helps you hold of your talent.
As virtual working becomes the norm for many organisations, location will be less of a factor when job hunting, making it easier for your best talent to switch employer. To keep up with the ongoing war for talent, your EVP and benefits package must regularly be adapted to the employees you have today – and the ones you need in the future.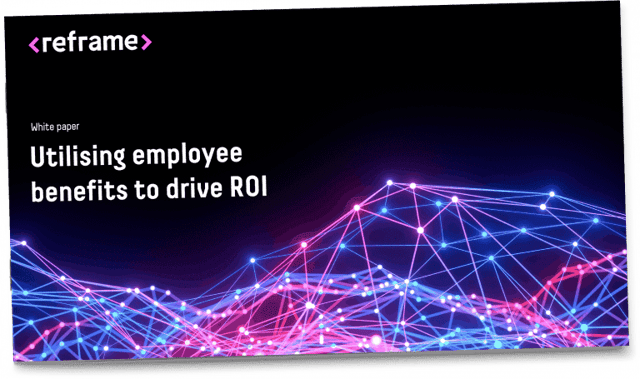 Find out more about using personalised benefits to attract and retain talent in our white paper: Utilising employee benefits to drive ROI