In a technology-driven consumer-centric world, employees are used to receiving a personalised experience, especially when they shop or access services online. Unfortunately, the traditional model of employee benefits is to 'push' benefits at employees and leave them to do the rest. The experience is impersonal and 'vanilla', missing the potential of maximising employee satisfaction through a more personal, joined-up solution.
Today's workforce expects to be treated as individuals. In addition, the pandemic has driven demand for a more personal experience – our research found that 1 in 2 employers think employees now expect a hyperpersonal approach to employee benefits.
Being hyperpersonal about employee benefits
By starting with the individual, benefits can be recommended and flexed according to their personal needs and behaviours. Inspiration can be taken from the retail sector who are leading the way in hyperpersonalisation:
Using technology to deliver a human touch
Using ecosystems to personalise individual experience
Using data to understand individuals' needs and behaviours
Viewing employees as consumers of employee benefits ensures every experience and interaction is as unique as they are. For instance, communications and benefit delivery can be influenced by the individuals' own requirements and personal circumstances – currently 71% of organisations do not segment employee communications. By dialling up personalisation, employers can increase their connection with employees.
Technology not only enhances the benefit selection and administration experience for each employee, but it can inform their benefit choices by responding to data on previous selections, information viewed, feedback and utilisation by other employees. This gives a dynamic and real-time edge to benefit schemes, ensuring they are relevant and resonate.
Increasing employee satisfaction through personalisation
Our research found that 39% of employees would engage more with their benefits if they felt they were more relevant to them. The solution here is not quantity. It's about offering a vast range of high-quality benefits were clusters will continue to resonate with different groups of employees as their needs change.
Millennials and Gen Z'ers are particularly keen for more innovative ways to integrate their work into their everyday lives. Employees choose benefits that work for them, their family and personal circumstances. We're already seeing a shift towards whole-life balance, with lifestyle, health prevention and family-friendly benefits increasing in demand. More generally, a well-rounded benefits scheme appeal to individuals' holistic needs: physical, emotional, financial, and social.
Delivering an inclusive and personalised scheme means moving away from the traditional approach, were different benefits are made available to certain employees depending on seniority or length of service.
Promoting flexibility to drive personalisation
In other parts of their lives, employees are used to being able to access and purchase the things they need when they need them. While a 'benefits window' for signing up may help streamline processes for HR, it restricts flexibility for the individual. It also means employees may not be able to access benefits or support when they are required. For instance, 31% of employees would prefer the flexibility of signing up to benefits outside a benefits window.
Sometimes employees need access to a specific element or feature rather than the entire solution. Perhaps they need to briefly dip in and out of multiple benefits – something that should be straightforward but is not currently a seamless experience for employees.
Driving employee engagement and satisfaction post-COVID requires a more dynamic and flexible approach. Moreover, they are at different stages of their life and career and want greater flexibility when it comes to selecting benefits. Employees may not think to sign up to health services until faced with a cancer diagnosis or unexpectedly become a carer for instance.
Flexibility also extends to how benefits are delivered, experienced, and communicated. By tailoring your communications based on demographics, interests or behaviours for example, you can expect to see a 17% increase in engagement.
Achieving the full potential from employee benefits
Almost half of employee benefits are underused and undervalued. Personalisation was one of the four themes identified in our latest research to increase ROI on employee benefits. The key is designing benefits for individuals, rather than expecting individuals to fit your benefit scheme.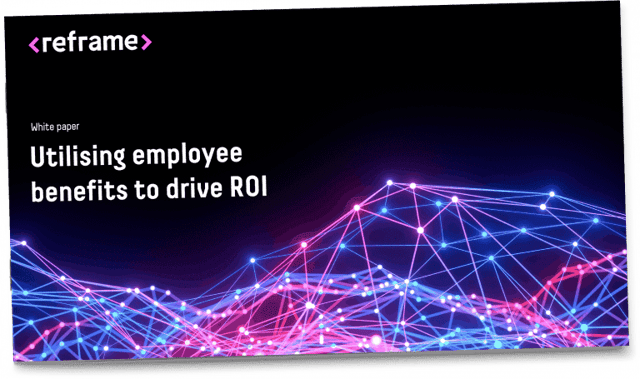 Find out more about using personalised benefits to drive return on investment in our white paper: Utilising employee benefits to drive ROI