We understand that skincare during the winter can be challenging, especially for those undergoing cancer treatment.
We have teamed up with Jennifer Young to provide some hints and tips for getting through the colder months.
---
Winter skincare

during cancer treatment
In the winter weather, skin always experiences additional stresses and changes, but when you're going through cancer treatment they can be exacerbated by the side effects of treatment as well. Here, specialist skincare experts Jennifer Young, give their top tips for winter skincare during cancer treatment along with key products from their Beauty Despite Cancer collection, to help you get back your glow.
How does winter affect the skin?
In the winter, skin tends to become drier, flakey and itchy thanks to the combination of cold weather, low humidity and central heating, which deplete the skin of its moisture.
Meanwhile, the side effects of cancer treatment on the skin, especially chemotherapy, often result in it being very dry and sensitive, you can have an increased prevalence towards skin reactions and allergies, skin can feel hot, and nails can become very brittle and weak.
In addition, the cold weather can increase other side effects of cancer treatment. Chemotherapy can cause things like peripheral neuropathy, where the nerves in the body's extremities become damaged and you may experience numbness or tingling in your hands and feet. As a result, you have to take more care not to get too cold to avoid things like frostbite.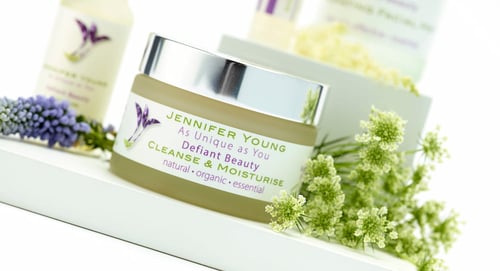 Tips for winter skincare during cancer treatment
When it comes to actions you can take to look after your skin and support its wellbeing in winter, the advice is similar to anyone else. However, when you're undergoing cancer treatment, you may find that the rewards for taking care of your skin are greater, helping you to feel nurtured and more comfortable - after all, it can be distressing if your skin is chronically itchy or flaking. That said, there are some recommendations that differ. For example, we wouldn't recommend exfoliating during cancer treatment. Here are some of our top tips:
Be gentle with your skin
The key to looking after your skin during active cancer treatment is to be gentle in what you do.
For example:
Use gentle skincare products rather than heavy or abrasive ones
Wash with lukewarm water
Use soap-free cleansers
Avoid products containing alcohol (they dry out the skin)
Try to avoid products containing sodium lauryl sulphate (SLS)
Use a clean, gentle cloth to remove cleansers
Avoid anti-acne products
Jennifer Young recommended product: Defiant Beauty Cleanse & Moisturise soap-free cleanser
Moisturise your skin regularly
While treatment is ongoing, it's hard to stop dry and sensitive skin from occurring entirely, but giving skin back a little of what it's missing goes a long way to making it more comfortable and helping it to recover. Try the following:
Apply your moisturiser multiple times a day
Use balms over lotions as they tend to contain fewer preservatives
Use a moisturising lip balm regularly - it's best to avoid ones containing petroleum jelly and gravitate towards natural ingredients like shea butter
Keep a hydrating spritz on hand
Jennifer Young recommended product: Defiant Beauty Cool and Refresh is a cooling face mist that gently tones your skin
Keep skincare simple
Try not to overload skin with lots of different chemical ingredients. Use products with a few really great ingredients rather than a long list of ingredients that you don't understand. This will also help to minimise the chances of any negative reactions. Look for labels where you can understand the list of ingredients - they are usually in Latin but natural brands (like us) will usually provide the common name in brackets as well, to help you understand what you're putting on your skin.
Jennifer Young recommended product: Defiant Beauty Intensive Serum is a targeted treatment to help skin recover from cancer treatment
Use fragrance-free skincare products
Perfumes and fragrances can aggravate the skin especially when they're synthetic and particularly with skin being extra sensitive during chemotherapy. As they don't tend to offer a therapeutic benefit to the skin, it's best to avoid them during active treatment.
Jennifer Young recommended product: Defiant Beauty Smooth Skin Balm is a nourishing moisturiser
Choose skincare products that make you feel good
Your skincare routine should be something that makes you feel good inside and out. Having a nurturing skincare routine not only makes our skin feel more comfortable, which allows us to have a better quality of life, but it also impacts our mental and emotional well-being. So, when you're choosing your skin care products, choose the ones that you enjoy using and that make you feel good.
Jennifer Young recommended product: Defiant Beauty - Face Basics Collection has everything you need to nourish and restore skin gently