An employee benefits package is a significant investment for any organisation, yet many are not aware how effective they are. While salary sacrifice savings, efficiency and benefit cost-saving are often measured, 1 in 2 HR decision makers admit to not measuring return on investment (ROI) on their employee benefits.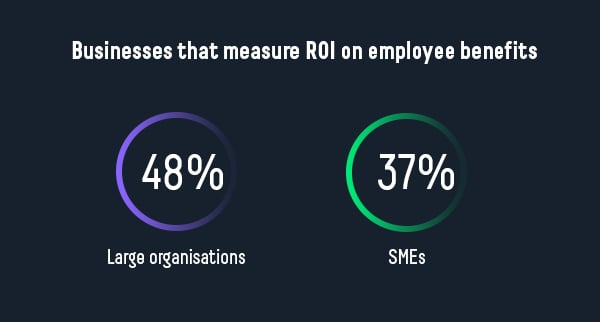 Our research suggests that most employers are not fully aware whether their benefits are underutilised or undervalued. While employers seem willing to further invest in their employee benefits package, this investment has not been matched with an increased ability to track how their benefits are being utilised.
Challenge of measuring ROI on an employee benefits package
A lack of resource or time to measure ROI is a common challenge for organisations. There can be too much data to analyse – most of which is spread across different systems that don't talk to one another. Even with the best intentions, some organisations are simply unsure which metrics to report on and how to measure them.
Capturing softer metrics – otherwise known as value on investment – can be easier. Are employees happier, healthier, and more engaged as a direct result of your employee benefits?
Whereas the more tangible, financial metrics can be a little tricky. How does your benefits impact recruitment or payroll costs? What are the drivers for staff turnover and how does your benefits reduce this? Is there a link between the take-up of your health-related benefits and sickness days or PMI premiums? It takes a balance of both value and financial measures to determine whether your employee benefits package is efficient and effective.
Meaningful insight into ROI requires capturing and analysing data usually held across multiple systems. Many organisations struggle to bring this data together and would welcome technology to assess the return on their benefits spend.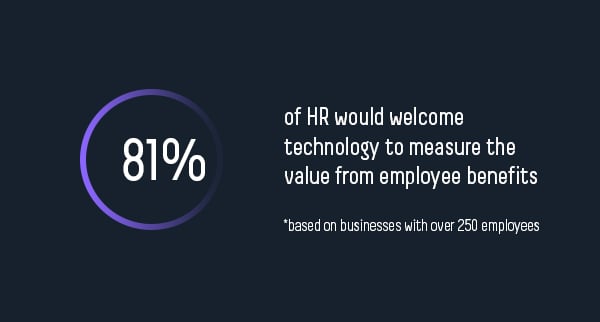 The importance of measuring ROI on your employee benefits
Measuring ROI on employee benefits is more important than ever. The impact on employee wellbeing and work-life balance has rippled through organisations as a result of COVID and long-term remote working.
Most of your workforce will consider their employee benefits an important part of their overall remuneration package. However, our research reveals that only 54% of employees are aware of their employee benefits package and are fully engaged with them. Imagine the cost-savings, engagement and value that would come from improving this figure.
There are many ways to measure ROI on your employee benefits package. The key is identifying what is important to your organisation and what data will help you measure that.